Sri Ramanuja Meghamala
Cloud Based Digital Archive
WATCH THIS PAGE FOR WEEKLY UPDATE OF CONTENT
---
TEXT : The original Srivaishnava text(in Sanskrit or Tamil) is set to UNICODE in five language scripts(Telugu, Kannada, Tamil, Sanskrit, English).
SEARCH BAR : Allows indexed search with-in a book and across other books listed in the tree for easy access.
HYPERLINKS : Directly leads you to the referred text(Pramanas) from the link.
PRINT ARCHIVE : Scroll down to the bottom of the book-display to access published works on the same title.(will be updated regularly)
AUDIO ARCHIVE : Scroll down to the bottom of the book-display to access audio renderings on the text which is uploaded by many Scholars promoting access to collaborative-content.(will be updated regularly)
VOICE ASSISTANCE
 : Integrated with Text-To-Voice for easy reading of the texts in Sanskrit/Tamil (..
check the Beta version in Mumuksuppadi Tirumantra Prakaranam
); promoting Reading-without-Seeing suitable for people with no-familiarity to reading Sanskrit/Tamil language-script and even to the Visually-challenged and people with poor-vision.
CURATION : Integrated with a thesaurus  of compiled words with their commentaries displayed on mouse-over as delivered in the commentary tradition.(Demonstrated in Sribhasya Mangala Sloka-under construction)
---
APPEAL :
Discourage resource-utilization in i). Re-printing books(by using content online in the tree below) and ii). Transliterations to other language-scripts(use integrated Voice-Assistance instead) and promote first-print of un-published manuscripts

(Contact us for sponsoring print of more than 120 un-published Palm-Leaf Srivaishnava texts in our possession).
---
This effort is a move to preserve the vast tradition of knowledge re-established by our Acharyas. Further this preserves a vast collection of  archives; uploaded to a state-of-art cloud storage to be accessed worldwide based on the profile of the information seeker and his requirements. The variety of data made available suits to varied profile of people ranging from a simple knowledge seeker to a Scholar. The integrated Search-bar with hyperlinks, Text-to-voice, with associated audio and print archive allows users to locate content online, promoting advanced research and teaching in sustainable ways-"Bahudhaa Srotavya-Bahunaa Srotavya". This effort also discourages the resource-utilization in print-media by publishers in re-printing many books, giving all the material to Read-Hear-Understand Indian literature and philosophy promoting Assistive e-research and e-learning.
The knowledge tree below gives a overview of contents made available in this digital archive -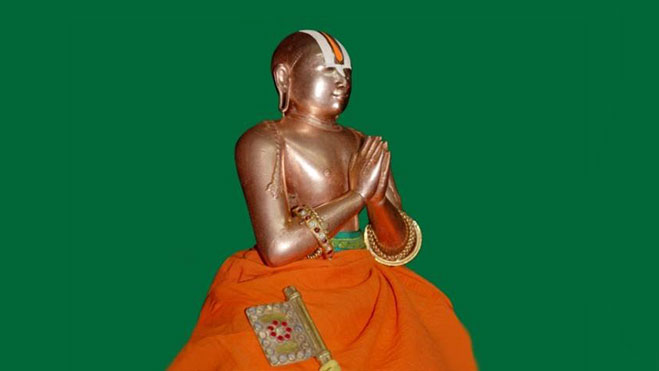 ।।श्री:।।
।।श्रीमते रामानुजाय नमः।।
श्रीरामानुज वाणी
प्रवचनम्
AUDIO RENDERINGS ON THE TITLES
प्रसारणम् १ - SRIBHASYAM
प्रसारणम् २ - GITABHASYAM
प्रसारणम् ३ - VEDARTHA SANGRAHAM
प्रसारणम् ४ - BHAGAVAD VISHAYAM
प्रसारणम् ५ – MUMUKSUPPADI
प्रसारणम् ६ – SRIMAD RAMAYANAM
The contents are classified and access is granted based on the profile of the seeker as registered in your registration. In case you have not registered as yet, kindly register here or Login
Note : All the above titles are uploaded in the Cloud(approx 2TB of data) with related multiple publications(in many language scripts) and associated multiple audio renderings(in many spoken languages) in a move to preserve the treasure of works & renderings of Scholars; some might have poor quality; request all to bear with the available resources.
The contents are classified based on the abilities of the seeker sought